Soodus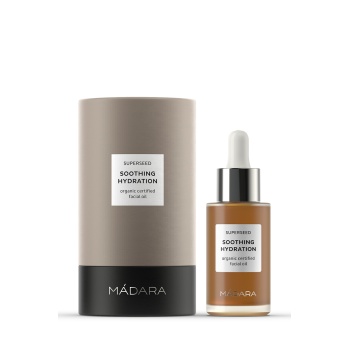 Zoom
Madara Superseed Soothing Hydration Organic Facial Oil 30ml
SKU:
NA2601
Brand:
MADARA
Unit:
tk
Delivery time:
1-5 tööpäeva
Price:
50,80 €
1693,33 €/L
1439,33 €/L
This unique and soothing elixir is composed of 8 unique and nourishing dry oils that boost the skin hydration level, elasticity and comfort. The ideal thirst quencher for dry, dehydrated, tight and fragile skin as well as fine lines, flaky skin, dry patches and irritated areas.
Blackcurrant and cranberry seed oils are rich in omega fatty acids that counteract irritations while sea buckthorn oil is rich in antioxidants and carotenoids that regenerate and deeply condition the skin. Oils derived from broccoli, avocado, oats, rosehip and evening primrose work in unison to combat dryness.
This dry oil cocktail is nearly instantly absorbed by the skin and delivers needed nutrients.
Application:
Add a few drops in your moisturiser or use on its own morning and night.
INCI: Aroma, Avocado, Black currant, Broccoli, Citronellol, Cranberry, Decyl Cocoate, Evening Primerose, Geraniol, Limonene, Linalool, Oat, Rosehip, Sea Buckthorn oil, Tocopherol