Soodus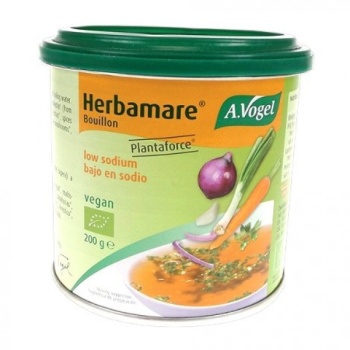 Zoom
A.Vogel Herbamare Vegetable Stock Low Sodium 200g
SKU:
AV1092
Brand:
A. VOGEL
Unit:
tk
Delivery time:
1-5 tööpäeva
Price:
8,80 €
44,00 €/Kg
22,00 €/Kg
Plantaforce is made entirely from vegetables, fresh vegetables and herbs, pure sea salt (unrefined). All ingredients come from organic farming.
Ingredients: Vegetable oil ( palm*, sunflower*), maltodextrin* (from maize), raw cane sugar*, sea salt, vegetables (onions*, parsnip*, carrots*, leek*), yeast extract*, spices (garlic*, curcuma/turmeric*, pepper*, mace*), herbs (lovage*, parsley*), shitake muchrooms, caramelised sugar*. *from certified organic cultivation.
FREE from Added Sodium, Gluten, Wheat, Sugar, Egg Protein, Sesame, Casin, Artificial Flavours, Preservatives or Colouring, Peanut, Nut, Monosodium Glutamate (MSG), animal by-products.
FREE from Synthetically Produced Substances, Genetically Modified Organisms (GMO) and Genetic Engineering (GE).
*Certified organic IMO SCES 004
How to Use: To make a vegetable broth or stock, add 20g (1 tablespoon) of Plantaforce low sodium to 1 litre of boiling water. Or if you want to make a tasty quick snack just add half a dessertspoonful (about 5g) to a cup of hot water.
Suitable for vegetarians and vegans.
Nutritional Information 100 g

Energy kJ / kcal 1837/449

Fat 26.1g

Saturated Fat 12.7g

Protein 4.8g

Carbohydrate 46.4g

Sugar 24.3g

Salt 12.7g
Allergy Information

Free of: gluten, lactose.