Aroma spray Get focused 100ml
SKU:
RG104
Brand:
ROHE
Unit:
tk
Qty:
In Stock
Delivery time:
1-5 tööpäeva
Price:
13,20 €
132,00 €/L
Get focused aroma spray is great if your head is a little thick from learning or working and needs refreshment.
In aromatherapy, rosemary has a refreshing and energizing effect, improves concentration and learning, and reduces stress. Peppermint has a refreshing, anti-stress properties and gives new energy, improves memory.
USAGE: Shake the bottle vigorously and spray.
Suitable for spraying air at home, work or car and on fabric. Spray the fabric before testing on a small area.
INGREDIENTS: Distilled Water, Alcohol, Mentha Arvensis, Rosmarinus Officinalis
Avoid contact with eyes. Store in a cool, dry place away from direct sunlight.
PS If you return a used and empty bottle to our store, you will get a new aroma spray for 1 euro cheaper!
Made in Estonia.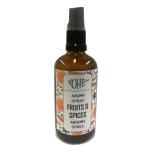 SKU:
RG103 ,
Qty:
In Stock
13,20 €