Premium Carnaroli Risotto Rice, White 500g Rapunzel
SKU:
R405785
Brand:
RAPUNZEL
Unit:
tk
Delivery time:
1-5 tööpäeva
The perfect risotto should be creamy and aromatic. This organic Carnaroli rice by Rapunzel is cultivated in the rice-growing region of Piedmont, Italy. It retains a firm "al dente" texture when cooked and is perfect for a variety of risotto recipes.
Instructions for 4 servings of risotto:
Sauté 250 g of rice along with chopped onion in a little olive oil or butter until translucent. Deglaze with stock or white wine. Gradually add hot stock and cook for about 20 minutes until the rice is creamy. Stir occasionally.
Ingredients: Carnaroli Risotto Rice [1]
From controlled organic cultivation
May contain traces of: cereals or cereal products containing gluten, soy or soy products.
| Nutritional Information | per 100 g |
| --- | --- |
| Energy Content / Calories | 1461 / 349 kjs / kcals |
| Fat | 0,6 g |
| from Saturated Fats | 0,1 g |
| Carbohydrates | 77,7 g |
| from Sugar | 0,2 g |
| Protein | 7,4 g |
| Fibre | 1,4 g |
| Salt | <0,01 g |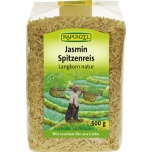 SKU:
R406330 ,
Delivery time:
1-5 tööpäeva
3,88 €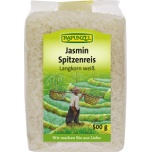 SKU:
R406370 ,
Delivery time:
1-5 tööpäeva
4,80 €