A.Vogel Herbamare Vegetable Broth 1000g
SKU:
AV1088
Brand:
A. VOGEL
Unit:
tk
Delivery time:
1-5 tööpäeva
Price:
25,70 €
25,70 €/Kg
Herbamare broth concentrate is a herbal soup concentrate for making bases for various soups and sauces. It is also perfect for seasoning rice and vegetable dishes.
Useful properties of A.Vogel's Herbamare herbal broth:
suitable for vegans
gluten and lactose free
the ingredients come from organic farming
MSG free
INGREDIENTS: sea salt (48.8%), vegetable oil (palm*, sunflower*), maltodextrin (corn*), raw cane sugar*, yeast extract*, vegetables (parsley*, carrot*, parsnip*, leek*, onion*) , chicory extract, herbs (chive*, turmeric*, garlic*, nutmeg*), shiitake mushrooms*.
* Organically grown
HOW TO USE: For the base of soups and sauces: add 22g (1 tablespoon) per 1 liter of boiling water.
Nutritional value on average per 100g:
Energy 1277kj/307kcal
Fat 22.0, of which saturated fatty acids 9.9g
Carbohydrates 25.2g, of which sugars 12.6g
Protein 1.7g
Salt 48.8g
Storage: Store in a dry and cool place.
Soodus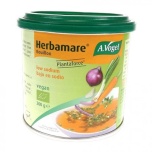 SKU:
AV1092 ,
Delivery time:
1-5 tööpäeva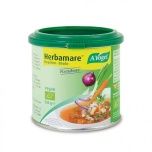 SKU:
AV1087 ,
Delivery time:
1-5 tööpäeva
7,52 €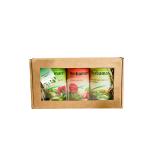 SKU:
AV4362 ,
Delivery time:
1-5 tööpäeva
15,85 €